Refrigeration Sub-Zero Repair in Deerfield Beach, FL

Rescue your refrigerator from ruin. Sub-Zero Service Centers save your food by saving your refrigerator. By providing prompt refrigerator repair in South Florida, we ensure everything stays fresh. In fact, we are open 365 days a year and 24 hours a day to address your needs. You never have to worry about losing money due to spoiled food. As a trusted Sub-Zero repair company (link to home), we have proudly served the South Florida area for more than three decades.
Both residential and commercial property owners know they can trust us for a quick response, any time and any day when they have problems with their Sub-Zero equipment. Our factory-trained and experienced Sub-Zero refrigerator repair specialists deliver the highest-quality services to get your unit up and running as soon as possible. If your refrigerator is having any of the following problems, call us today:
Not Cooling
No Power
Cycling on and off Too Often
Blockages or Leakage
Dirty Coils
Making Unusual Noises
Sweating on the Outside
Getting Hot around the Edges
Leaking Oily Residue
Emergency Refrigerator Part Replacement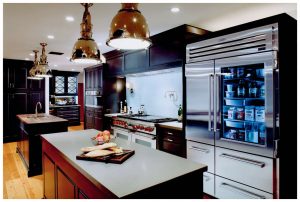 It's the weekend, and your refrigerator is broken. Who are you going to call for repairs?
Not all refrigerator repair companies are open on the weekends, holidays, or in the evening. In addition, they may not be able to replace your broken unit with an authentic Sub-Zero part. Because we specialize in Sub-Zero refrigerator part replacement and repair, we only use the right parts for the job. Whether you have a broken thermostat, refrigerant leakage, or a wiring problem, we'll locate the issue and accurately fix it.
Do You Need Same-Day Refrigerator Service?
Just because we provide same-day services doesn't mean we charge a fortune for it. In fact, our prices are always fair, and they never include hidden fees. In addition, your service call is free if you use us to do the job. Instead of running to get ice and putting your food in a cooler, contact us for same-day refrigerator service. We'll be out to your place right away. You'll find that we work hard so your food stays cool and you stay happy. Put your trust in a dependable refrigerator repair company that is at your service 24 hours a day.
Contact us for emergency service when your fridge is not cooling properly. We proudly serve residential and commercial customers throughout South Florida.